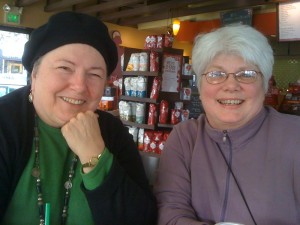 Del Thomas is in Portland for a short visit and Terry and I met her at Starbucks. We talked and talked and talked. It was a great visit.
Otherwise, today has been a bust. I realized that I really have to redo my pink piece. It just isn't conveying what  had in mind.  I don't think it will take too much work. I will feel better about it.
Tomorrow, M & M have no school so Steph is dropping them off in the afternoon. We are taking them to the OMSI planetarium Holiday Laser show. They will spend the night as mom and dad are going to a party without them. If we have time, we might make some Christmas Cookie ornaments.
And now for something cute: