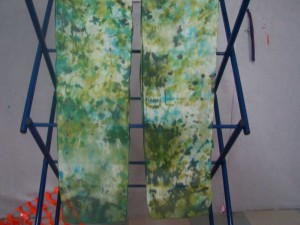 Today was Some Thursday at Someones House (STASH), except we went to the Pittock Mansion and out to lunch, instead. I wanted to give my friends scarves as gifts. This morning, I decided to do two more. These are silk chiffon which I wrapped around a thick rope and then squirted with chartreuse, turquoise and black. I rinsed them in water and threw them into the dryer with a towel. While I got dressed, they dried and were ready to wrap.
The Pittock Mansion sits way up on the western hills. Reva and I live over on the east side of Portland, across the Willamette river. We met Beth, Gale and Terry at the mansion because they live over in the western hills. Here is everyone waiting in the cold for the mansion to open.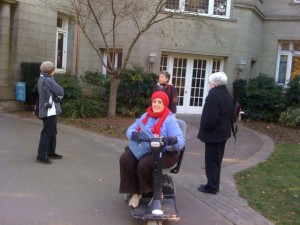 I was not particularly enamored with the overdone interior decorator holiday decor, but I loved seeing this beautiful building which has fabulous views. Here is Mt Hood from the mansion.
I was enamored with this shower which is the precursor for the modern day multiple shower heads.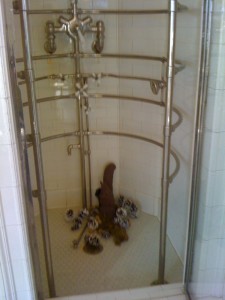 Some photos that I took.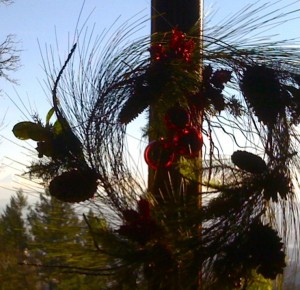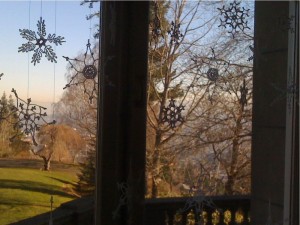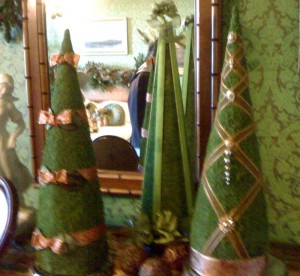 We went to the Chart House which sits up on a hillside with a panoramic view of  the Willamette and the East side of Portland and beyond. There is Mt. Hood, again. My house is down there someplace.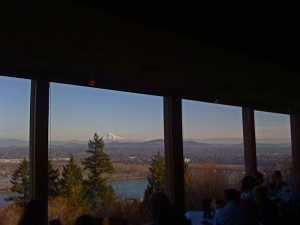 It was a great day with friends. I came home and made Mr C a stew of beef, mushrooms, onions and brown rice with a fabulous stout from a brewery in Eugene. It added a wonderful richness to the stew. I made broccoli to go with it.
I finally dragged myself into the studio at 9 pm and watched The Office and 30 Rock while I got some quilting done on the pink piece. I have to finish it tomorrow, but first, we are going to take Scooter out to the boonies to cut down a Christmas tree.