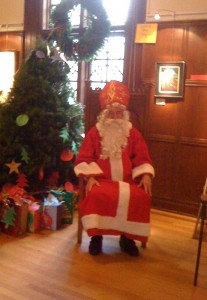 I had a couple of bad days. Sunday, during church, I had a major sinusitis induced vertigo attack. I am sure the warmth and candles and lack of oxygen made it worse. I managed to exit before I passed out and the EMTs were called which has happened more than once during a church service!!
I spent Sunday trying not to move too quickly and took my meds, and I felt better yesterday. My next case of angst involves the 12 X 12 book. I am writing about my chair piece which has two photos I took back in 2005 in Sonoma, CA. The originals are missing. In fact, a search of both of my computers shows photos from late 2005 missing in action. I looked on my external hard-drive back up and nothing is there. I have the photos on my Flickr site but they are low resolution and not ok for printing.
I e-mailed the gracious and talented Gloria Hansen about my problem. She asked me to send her the low res photo and she used a program that she has that ups the resolution. I am hoping they are suitable for the book. I e-mailed them to Lark, and they will let me know. So, I am recovering from these physical and mental problems and now I am enjoying the holidays.
The photo up there is St Nick who made his annual appearance at the cathedral on Sunday. (I recovered enough to get his photo.)
Today, we took Mia and Miles out to lunch and to do a little shopping at the mall. We ate lunch at the Macaroni Grill. Miles had a good time drawing on the paper table topper.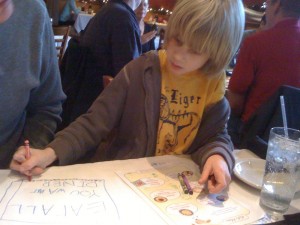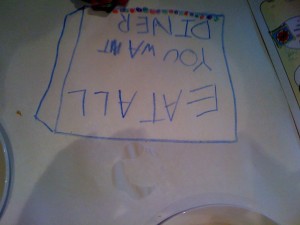 Mia enjoyed the puzzle book.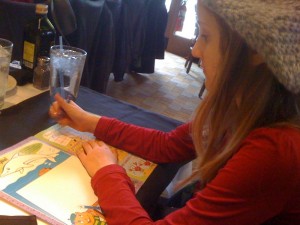 We had a good time shopping and Grandma was exhausted by the time we got home.
Tonight, Mr C and I had dinner of popcorn and diet Coke at the movie theater, watching Up in the Air, which we loved. This film is iconic for our times in the same way The Graduate was when it was made. George Clooney is wonderful, sweet, vulnerable and gorgeous. What can I say — I love the man.