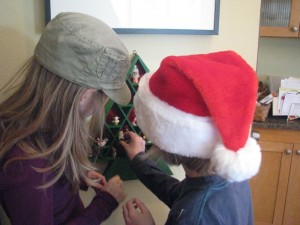 I have been busy for the last couple of days with M & M, getting into the holiday mood. Yesterday, they had no school so Steph dropped them off early in the afternoon. We got tickets for the Holiday Laser Show at the OMSI planetarium. It was fun to listen to Christmas music and stare at the hokey graphics on the planetarium ceiling. We also spent some time in some of the exhibits. There is so much there for the kids to learn from experiments and exhibits like this one"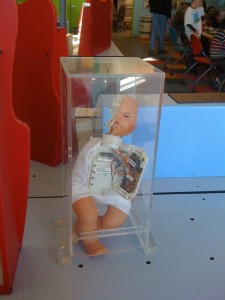 I think Mr C had as much fun as M & M.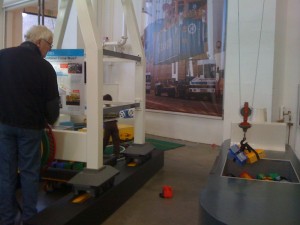 We had to go home to pay some attention to Scooter, then it was off to Burgerville for supper. Back at home we broke out the Peppermint Ice Cream and chocolate sauce — a sure sign that the holidays have arrived. Next on the schedule was Bah Hum Duck, a Looney Tunes version of The Christmas Carol.
This morning, we mixed up a batch of Nigella Lawson's edible gingerbread tree decorations. M & M had lots of fun cutting out and decorating the cookies.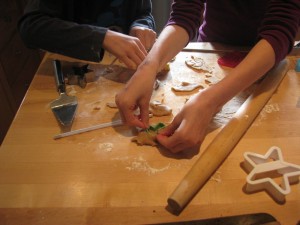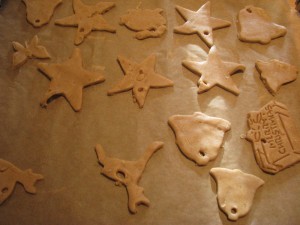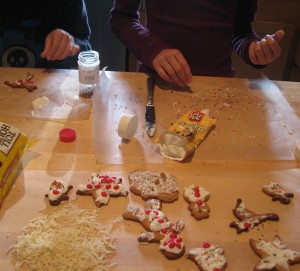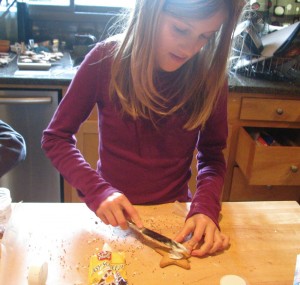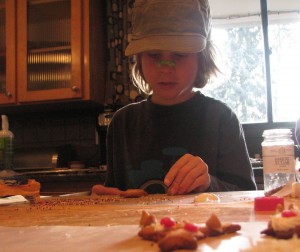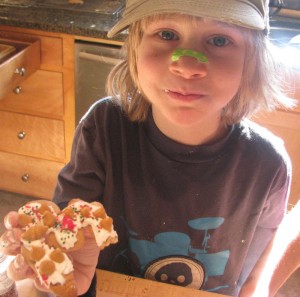 Next, they implored me to get out the nativity sets and the shelf tree (Mia's description of my wooden Swedish ornament holder.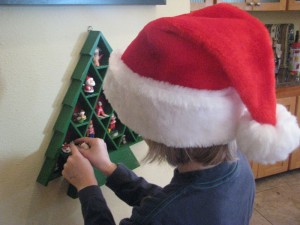 Scooter was very intrigued with the Santa hat and kept jumping up and grabbing the white fluffy ball.
We arranged all of the nativities. Mia remembered where each of them is assembled. I was quite worn out when their Dad came to get them at noon.  After a rest, I went out to Fred Myer's, a local grocery with lots of other stuff. I bought a new hat and gloves for the cold weather and a Christmas adornment for Scooter. The antlers light up and blink, but that was too much for him.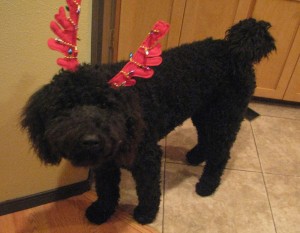 I have a very busy week ahead of me and I still want to remake my pink piece. I think I can pull it off. I may just do a pretty pink collage and take the easy way out.