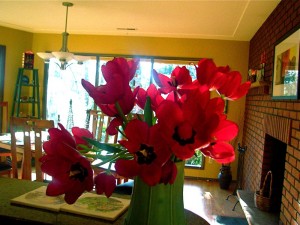 I am enjoying a few days with nothing I have to do. Much of my time in the last couple of days has been spent writing a rough draft of my chapter for the Twelve X Twelve book. It is about my chair piece which has several different surface design techniques. I finished the rough draft with 1500 words. I need to come up with 500 more.
The photo is of some red tulips that I bought for our Christmas celebration. They have been a bright spot on the counter between the kitchen and the dining room.
I am planning to work on my studio and get it in shape to get some work done for looming deadlines. I need to have it neat to take some photos for the book.
So, that is life here in the slow lane, in case you were wondering what I have been doing.