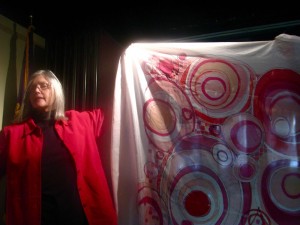 I had a very busy day. I had to leave the house before 9 am, when the temps were still in the teens. I presided over a great Columbia Fiberarts Guild meeting. Above, is a photo of Marianne Burr showing one of her rejects. She paints on china silk and then, using 100% wool felt as the batting , she hand stitches and embroiders her pieces. The back is added after the hand stitching is finished. It was mind-boggling to see them in person because photography must does not do the workmanship justice. When I first saw her work, I imagined some young 30 year old as the artist. I was pleasantly surprised to find a charming older woman. I love stories about late bloomers. Once she decided to make quilts about 4 or 5 years ago, she decided she wanted to get recognized and did her research and has made it into every major show.
We had an extremely successful silent auction to benefit the Coffee Creek women's correctional institution quilting program. I was so proud of the coordinators. We usually make $200 and today, we made almost $800. The women make two quilts for charity before they can make one to keep. It the goal of the program to be able to send the women home with a sewing machine so this money will help with that goal.
Here is another scarf that I did yesterday. I used sequin waste for a stencil. I then placed the scarf on crinkled light weight plastic and painted the dye over the scarf after I spritzed it with water. I then let it dry overnight on the plastic. It gives this lovely watery look.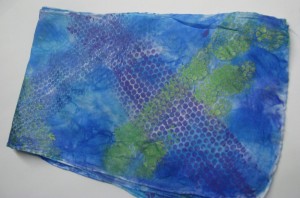 Tonight, Mr C and I were invited to a little birthday celebration for Beth, one of the members of STASH. Today is her 65th birthday.
Speaking of STASH, tomorrow we are going to the Pittock Mansion to see the annual Holiday Decor. The architecture of this 100 year old mansion is supposed to be a wonder. They have a different theme every year. Then we will go out to lunch. I hope I have some time to work on the pink piece tomorrow. I need a couple of days to get it finished for the Saturday morning reveal.