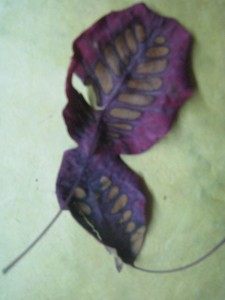 We just drove home from out theology class and the car registered an outside temperature of 26°. It didn't get above 32° during the day and the wind made it worse. We managed to take Scooter for a short walk. I found these leaves on my walk. They are really beautiful, but I can't figure out what tree they came from.
I started over on my pink piece and am much happier with the way it is looking. The reveal will be next Saturday — 12/12 — clever, eh?
Here is a sneak peek: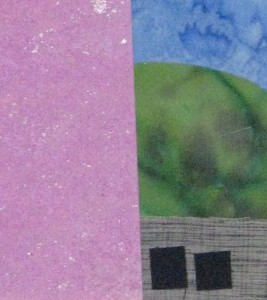 There is no quilting done, yet. Today, I printed many little things on Lutradur that I then painted with gel medium so that they would shine and then I had to cut them all out. Once they are attached to the quilt, I can do the quilting.
The latest Scooter escapades — I bought some home baked goodies at the church Christmas Bazaar, yesterday. We ate a couple of lemon bars. While I was downstairs working, you guessed it, he got the goodies off the kitchen island and devoured them. Today, he chewed the electric cord of my portable hater in half. Good thing it was not plugged in. I have to constantly keep an eye on him! I hope he outgrows this chewing obsession, soon.
I hope you are staying warm and cozy, wherever you are tonight.