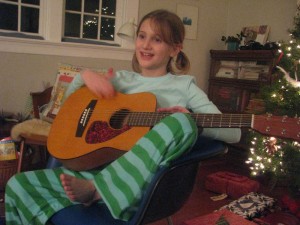 Oh my goodness, she looks so grown up! It is boxing day and I thought I should post some Christmas eve photos. We went to Stephanie's home and it was delightful. She made a delicious rustic shrimp soup with potatoes and Andouille sausage.
Steamed artichokes were enjoyed before the soup. One of Mia's favorite foods.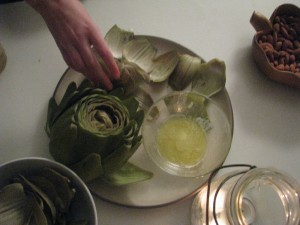 The first photo is Mia in her new Jammies and strumming the guitar that we gave her along with 6 private lessons.
The floor under Steph's tree was piled with gifts. Some of them were left to be opened on Christmas day.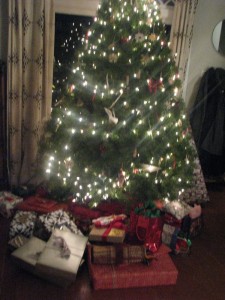 Here is Miles in his new Jammies and the Walkie-Talkie we gave him. He brought it with him yesterday. We use it to send him on secret missions – keeps him busy!!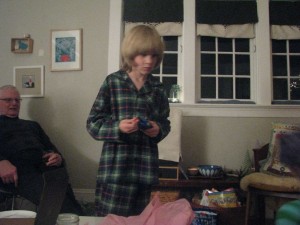 I finally got a photo of his two missing teeth.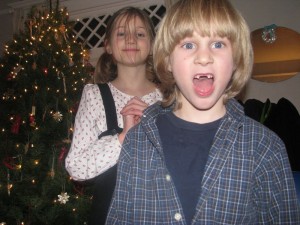 A scene in Steph's living room.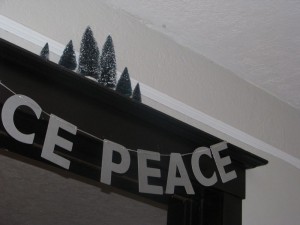 The goodies we enjoyed after dinner, provided by Mr C and I. The food pantry sold boxes of beautiful Holiday cookies as a fund raiser. I made fudge brownies and mini-cheesecakes. One of Steph's friends gifted her with cashew brittle and nougat.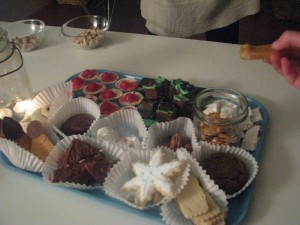 One of my favorite gifts is this painting of Maggie that Lisa did for us. This is from a photo when we still lived in North Carolina.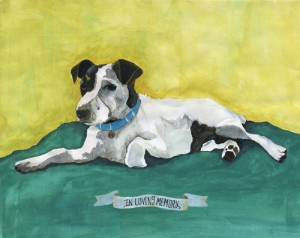 Yesterday, I made dinner for the family and we enjoyed playing some games in the afternoon. I neglected to take any photos. I hope you had a wonderful holiday with your loved ones.
Now, it is time to do some planning and list making for all that awaits me in the new year.